10 Kayak Fishing Tips for Beginners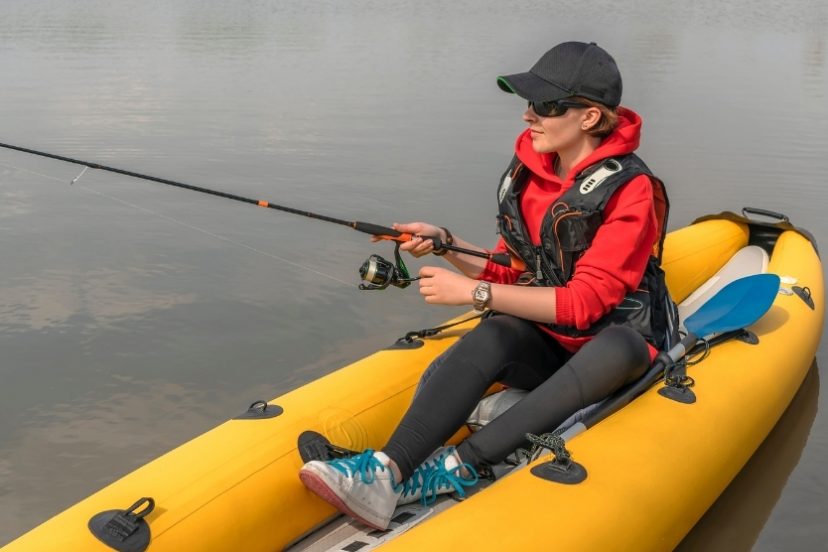 If you're new to kayak fishing, there are a few simple steps you can take to make your time on the water even more enjoyable.
1)) Make Sure You've Got The Right Kayak
Many fishers swear by sit on top kayaks for the added room. A recreational kayak could work, but the added space of the sit on top makes it an attractive option for fishermen.
2)) Start Simple With Your Rig
It may seem tempting to show up to your first day on the water with a fully decked out kayak, but you don't yet know exactly what you need.
Start with a simple rig (e.g. throw your stuff in a dry bag) and let your time on the water dictate what improvements you'll eventually want.
3)) Be Mindful Of The Weather
If it's going to be windy, you may want to point your rod tip sideways when casting, to avoid the high winds above the water.
If it's going to be rainy, you may want to bring extra clothes and rain gear to stay warm. If it's going to be sunny, bring the sunscreen.
You get the idea. Check the weather and come prepared.
>> See a great selection of Fishing Kayaks on Amazon
4)) Bring An Anchor
When you find the perfect spot, you may want to stay there for a while. A small anchor you can drop over the side of your boat will help keep you in one spot.
5)) Be As Quiet As Possible
Just like when you're fishing on land, you will have more success getting fish if you are quiet on the water.
Be mindful of your paddle and try to keep it from scraping along the side of your yak, as this makes a noise in the water that could drive fish away.
6)) Tie Down Your Gear
Fishing involves bringing a lot of stuff with you. You've got rods and bait and buckets, all things that you don't want to lose in the water.
As such, be sure to tie down your gear when you first get in the boat, and put things away when you are not using them.
You will thank yourself in the event of an unexpected tip.
7)) Know How To Do A Wet Re-Entry
Ideally, you won't need to do a wet re-entry, but you should know how just in case. If you capsize, you're going to need to get back into your boat.
To do a wet re-entry, grab your paddle and place it on top of the kayak.
Put one hand on either side of the compartment or vessel, and slide yourself back up on top of the boat, belly first.
You may need to climb on top of the paddle for leverage. Then, bring your legs around and gently lower yourself into the chair.
8)) Drift The Kayak
This is tough to do, but if done correctly it can help you get more fish. Drifting the kayak means positioning yourself in the water so that the current gently takes you downstream.
You may need to occasionally paddle on one side or the other to maintain your trajectory.
The fish will be drawn to your bait as you drift naturally through the water. Some kayakers even use an underwater parachute to help with drifting.
>> See a great selection of Kayak Fishing Accessories on Amazon
9)) Cast One-Handed
This is an important one to master due to size constraints in a fishing kayak. You simply don't have as much space around you as you would on land.
Therefore, it is advantageous to learn how to cast your rod one-handed. This saves space and leaves you with one hand free for your paddle.
10)) Use Crankbait To Guide Your Steering
Some heavier forms of bait can actually help you steer your boat. Simply cast in the direction you want to travel, and allow the crankbait to gently pull you in that direction.
If you don't want to move, make sure your anchor is secured.
Conclusion
These tips will have you catching fish in no time.