Recreational Kayaks: A Quick Guide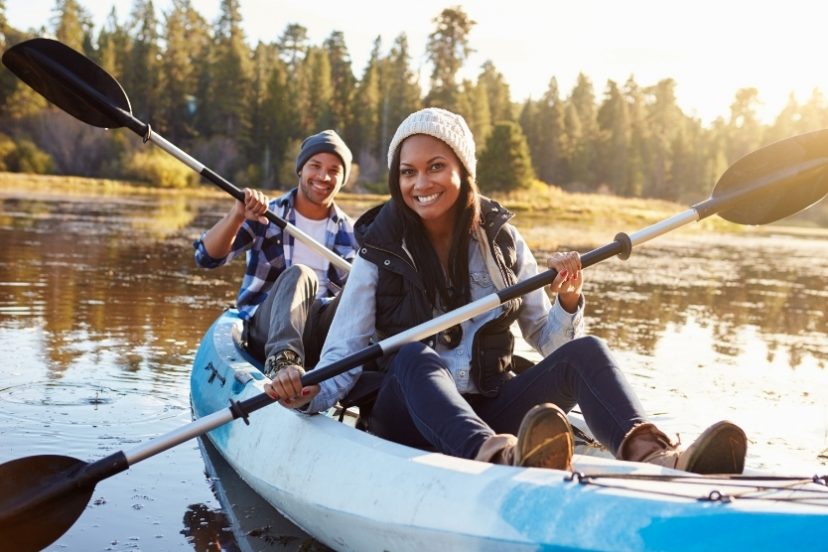 Many kayakers, both new and experienced, enjoy recreational kayaks. These kayaks are better suited towards calm waters, such as rivers and streams or small, inland lakes.
Some kayakers like to paddle as hard as they can, while others prefer to take a more hands-off, relaxation-minded approach to the float.
Whatever your style, there is a recreational kayak for you.
There are two types of recreational kayaks. Sit inside, and sit on top. Sit inside kayaks are ones that have a compartment large enough for you to sit in, and potentially store some gear.
Sit on top kayaks are flat with the top of the boat being open to the water.
Sit inside kayaks tend to be a little more stable and the compartment protects you from some amount of splashing.
Sit on top kayaks can be fun, but they are more prone to tipping.
So long as you have a good fitting life jacket and your gear is secured, either option is a great one for beginners and experts alike. Read on for a few recommended models.
Sun Dolphin Aruba
The Sun Dolphin Aruba offers an adjustable seat– a unique feature for a budget kayak.
It also has a small gear storage bin for your dry bag. The bin is tied down for added security.
The Aruba also comes standard with thigh pads, helping make for a more comfortable ride.
At 40 pounds, this is the most lightweight model of recreational kayak reviewed here.
The Aruba is 10 feet, and like most recreational kayaks it is best suited for calm waters. At $399, this is a great budget friendly recreational kayak.
Dagger Zydeco 9.0
The Dagger Zydeco 9.0 is a midrange recreational kayak. This model features contoured seats and a thigh pad for added comfort.
The retractable skeg is a good feature for a midrange kayak, helping you steer straight even in windy conditions.
At 48 pounds and 11 feet, this kayak is relatively lightweight without sacrificing length.
The compartment is decent sized and can easily fit a cooler bag.
The Dagger Zydeco sells for around $560, making it an excellent option for a beginner or anyone looking for a versatile midrange yak.
Eddyline Equinox Kayak
The Eddyline Equinox features a removable, extra comfortable, and adjustable seat. It comes with two storage compartments, as well as tie-downs for added storage space.
The exterior is made of a laminate material that combines the performance of a composite kayak with the durability of a plastic one.
The Equinox weighs in at 45 pounds, with a length of 14 feet. This is an excellent high-end kayak, with a price point of around $1,700.
Perception Kayak Tribe Sit On Top
The Perception Kayak Tribe Sit On Top kayak comes standard with an adjustable seat featuring Perception's Comfort Seating System.
Tie downs in the front and back provide security for your gear in the event of a tip.
While sit on top kayaks have a tendency to be less stable than their counterparts, this kayak has a remarkably stable ride.
The Perception Kayak Tribe Sit On Top weighs 46 pounds with a length of 9.5 feet.
The Tribe is a great option for someone looking to get their feet wet with a sit on top kayak, at a reasonable price point– this yak runs about $550.
Conclusion
Recreational kayaks come in all prices. The right kayak for you depends on the features you're looking for, as well as your budget.